AKG C 12 VR
studio condenser microphone is a favorite among some of the most sought after recording engineers in the industry. Modeled directly after the classic AKG C 12, the C 12 VR (vintage restoration) maintains it's popularity since it's inception in the late 1940's. The C 12 VR features a 1 inch diaphragm and unique condenser tube (6072) design providing the kind of warmth and presence characteristic of the microphone. In addition to the classic sound, the C 12 VR is a versatile microphone featuring 9 switchable pickup patterns including omnidirectional, cardioid and figure-eight with variations of each. Also provided by AKG C12VR is switchable attenuation between -10,-20dB and boost of+10db to accommodate all studio recording requirements. Item Includes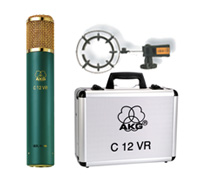 AKG C 12 VR Microphone
(N12VR) Power Supply
(H15/T) Elastic Shock Mount Suspension
10M Cable
(W42) Foam Windscreen
Professional Rugged Aluminum Carrying Case
Individually Tested Frequency Response Graph
Original Vintage Design
Modeled after the classic AKG C 12, the C 12VR is a restored version of the classic tube condenser microphone featuring the original 6072 vacuum tube, 1950's dual diaphragm and transformer.
Switchable Polar Patterns
The C 12VR features flexible switchable polar patterns including omni directional, cardioid, and figure-eight with variations of each pattern.
Attenuation and Boost Switching
-10 and -20db of pre-attenuation and gain boost of +10dB accommodate all studio requirements from vocals to instruments of types.
High Pass Filter
A 2-position high pass filter of the C12VR eliminates low end noise and rumble providing more presence of mid and high end frequencies.
External Control/Power Unit
The C 12VR remote power supply, provides power to the microphone and features the Polar Pattern, High Pass Filter and Attenuation / Boost switches.
Polar pattern cardioid, omnidirectional, figure-eight, and 6 intermediate positions, remotely selectable
Frequency range 30 to 20,000 Hz
Max. SPL 128/138/148 db (k=3%)
Equivalent noise level (CCIR 468-3) 32 db
Equivalent noise level 22 dB-A
Signal/noise ratio (A-weighted) 72 dB
Preattenuation pad 10 dB, 20 dB, selectable
Bass filter 6 dB/octave at 100 Hz,
12 dB/octave at 130 Hz
Impedance 200 Ohm
Recommended load impedance >1000 ohms
Connector 12-pin DIN
Cable 10 m (33 ft.)
Net weight 680 g / 24 oz.
Patent(s) Electrostatic transducer (Patent no. AT 395.225, DE 4.103.784, JP 2.815.488)