AKG C 391 B
features the ability to quickly interchange capsules with different characterisitics, making it an excellent mic for many applications. The C 391 B is a quiet mic with very good transient response and a polished sound. Produces a full bottom end when used with instruments. AKG C 391 B is a cardioid condenser microphone combination with a switchable bass rolloff/attenuator with 3 positions: flat, 75Hz and -10db attenuation. AKG C391B consists of a powering module, cardioid capsule, foam windscreen, stand adaptor and foam-lined case.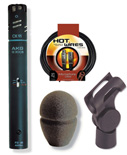 Item Includes
AKG C 391 B Microphone
SA 60 Stand adapter
W 90 Windscreen
FREE Hot Wires® XLR Cable - $20 Value
Switchable bass cut filter and 10-dB preattenuation pad
Insensitive to handling noise
High resistance to RF interference
Capsules mount directly on SE 300 B powering unit or connects via 10-ft. (3-m) cable
Polar pattern cardioid of AKG C391B
Frequency range 20 to 20,000 Hz
Sensitivity 10 mV/Pa (-40 dBV)
Max. SPL 132/142 dB (for 1% THD)
Equivalent noise level (CCIR 468-3) 28 dB
Equivalent noise level 17 dB-A
Signal/noise ratio (A-weighted) 77 dB
Preattenuation pad 10 dB, switchable
Bass filter 12 dB/octave at 75 Hz
Impedance 200 ohms
Recommended load impedance >1000 ohms
Supply voltage 9 to 52 V phantom power to DIN 45596
Current consumption <2 mA
Connector 3-pin XLR
Finish dark gray
Net weight 115 g / 4 oz.