AKG SolidTube
implements the classic design architecture of tube circuitry while maintaining an affordable price point. The AKG SolidTube cardioid studio condenser microphone features the ECC 83 vacuum tube resulting in the warm audio signal characteristic of tube technology. The Solid Tube's large screen (housing) assembly reacts minimally with the capsule, creating a broad +6dB peak in response above 10kHz, +/- 2dB over most of the range. The cardioid polar pattern of AKG SolidTube minimizes off axis noise or audio at an excess of 20dB at 180 degrees. The end result is a large diaphragm studio condenser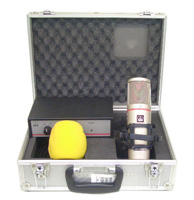 microphone tailored made for solo vocal and instrument recording in the studio. Shock-mount, flight case, wind screen and cable are all included in AKG SolidTube. Item Includes
AKG SolidTube Microphone
Elastic Shock Mount Suspension
Windscreen
Rugged Carrying Case
Power Supply with all Connecting Cables
FREE Hot Wires® XLR Cable from Gigasonic - $20 Value!
Solid State and Tube Design
The AKG SolidTube uses the ECC vacuum tube providing the warmth and presence of higher grade tube microphones.
Wide Dynamic Range
The SolidTube features a dynamic range of 110dB, providing plenty of headroom for vocal and instrument recording.
Cardioid Polar Pattern
The cardioid polar pattern of AKG SolidTube minimizes noise coming from off-axis sections of the microphone.
Pre-Attenuation Switch
The Pre-attenuation pad provides 20dB of attenuation when micing audio sources that would otherwise overload and peak the element.
Low Frequency Roll-Off
The Low Frequency roll-off switch of AKG SolidTube eliminates low end rumble and noise at 100Hz.
Polar pattern cardioid
Frequency range 20 to 20,000 Hz
Sensitivity 20 mV/Pa (-34 dBV)
Max. SPL 130/145 dB (THD=3%)
Equivalent noise level (CCIR 468-3) 30 dB
Equivalent noise level 20 dB-A
Signal/noise ratio (A-weighted) 74 dB-A
Preattenuation pad 20 dB, switchable
Bass filter 12 dB/octave at 100 Hz
Impedance 200 ohms
Recommended load impedance >1000 ohms
Connector 6-pin XLR
Cable 10 m (33 ft.)
Finish silver gray
Net weight 920 g / 2 lbs.
Patent(s) Electrostatic transducer